Products Page
Visit our sister company www.stevesmustangparts.com for your Mustang restoration parts needs.

Update / new products as of 08/28/15.

Ordering Information for Rosehill Performance Parts products.
The shopping cart option is through PayPal so, if you do not have a PayPal account,
please Email me and we will work out other payment options.
Texas Residents add 8.25% sales tax to price/shipping if cart button is not used.
Print and mail form found HERE.
International Shipping Available. Email me for additional cost information.
We now accept Visa, MasterCard and Discover on Telephone orders. We also accept Paypal to the account of sales@rosehillperformanceparts.com All Texas orders add 8.25% sales tax.
Call 713-742-FORD (Three, Six, Seven, Three) for details.
You can use a credit card and check out with PayPal even if you
do not have a PayPal account.
-:Aluminum Register Centering Rings:-
After completing a rear disk brake conversion like the Ultrastang Mark VII Conversion kit or several other aftermarket kits, there is a possibility of a "Less than ideal situation" that arises from using the Mark VII rotors or other Ford Rotors that have a larger center hole on the disk compared to the register hub on the axle of most stock Mustang axles. If you put on rear disks and bolt on the wheel and leave it on, it is not really a factor. But if you are the type that will be removing the rotors for other upgrades, measuring, test fitting other products or other reasons then it is possible that the rotor could be put back on and the pads not ride in the same wear area, losing maximum braking efficiency.
Most people doing conversions will need the rings if the Mk VII rear disc conversion is done on a stock vintage 8- or 9-inch rear end, because the hub in the center of the axle flange is smaller in diameter than the opening in the center of the Mk VII rotor.
If you have swapped a Granada/Monarch 9-inch drum brake rear end into your early Mustang and are doing the Mk VII conversion, then the rings would not be needed since these rear ends have the larger diameter center hubs that match the diameter of the Mk VII's rotors.
All Ultrastang Rear disk brake kits now come with the solution for this situation!!
The above photo depicts a rear disk brake on a mock up axle. There is a 0.34" gap between the disk and the axle hub. Even with the axle studs centering the disk, there is room for the disks to move around when the wheel is removed. Notice the gap around the wheel stud at the 9:00 position.
We have now started producing an aluminum spacer ring (With info. and assistance from valued Mark VII customers)
Here is a photo with the ring installed on the same mock-up.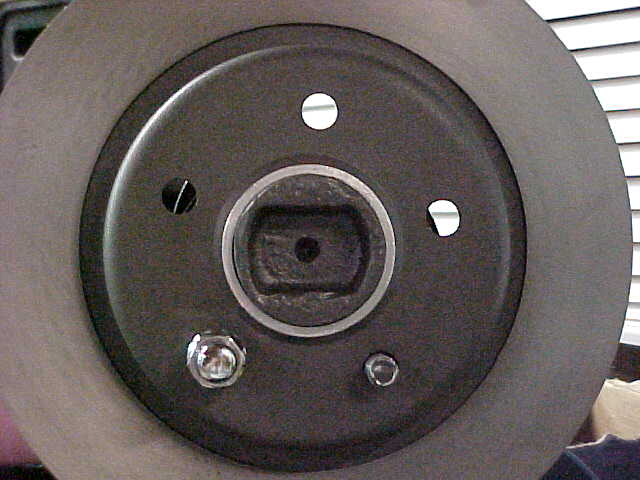 This ring will ensure that the disks centers on the same wear pattern every time!!
These rings are CNC'd from high quality 6061 aluminum stock and will give you many years of Mustang service.
International Shipping Available. Email me for additional cost information.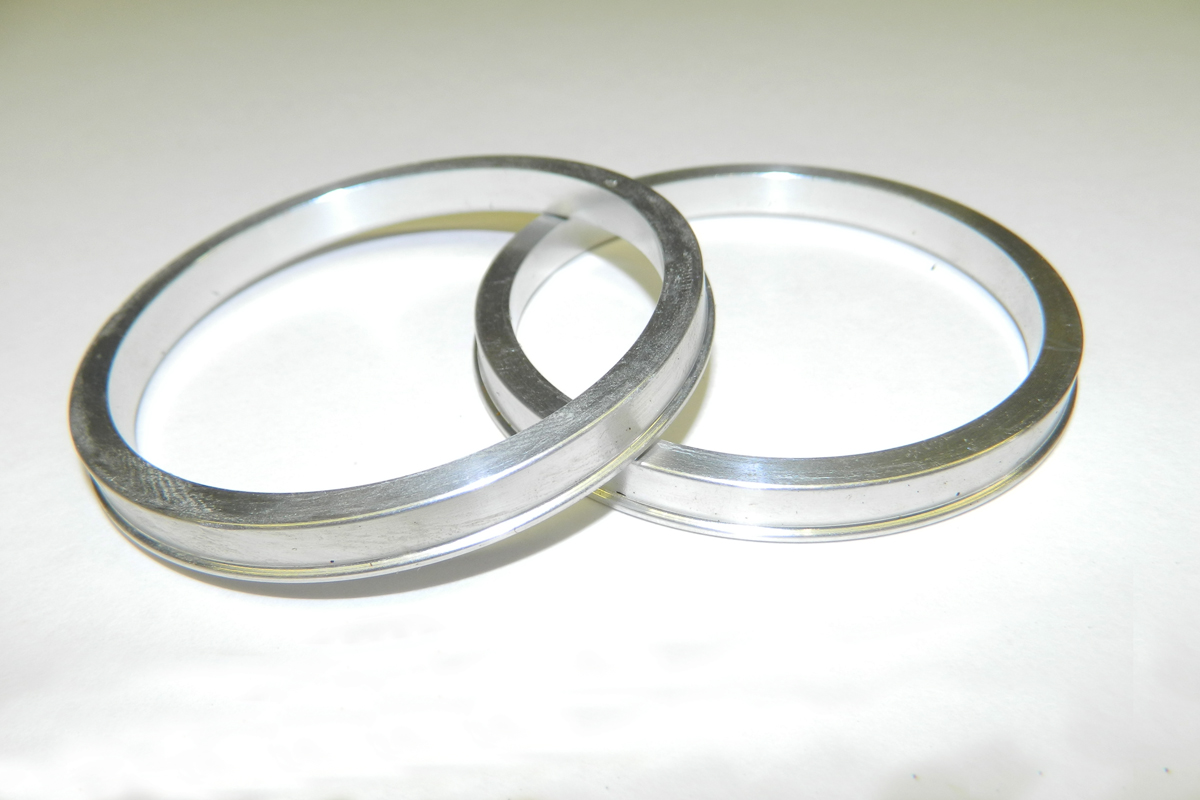 -:T5 World Class Transmissions Top Loaders & Tremec:-
Click here for the T5 Identification Chart
Several to choose from.
1985-95 T-5 World Class Transmission with full rebuild kit. $780.00. We always have a T5 in stock or let us rebuild yours. E-mail us for current stock. A steel bearing retainer is is part of a rebuild for us. Transmission does NOT come with a shifter or handle. Ask about a few used ones we have for 25.00.
We rebuild all T5's for any applications.
Also have T5's with the Cobra Gear set and can add a Counter Gear Stabilizer ($50.00) for a very durable transmission.
Add for a steel bearing retainer for $30.00 to your transmission.
Labor to Dis-assemble, clean inspect & re-assemble transmission. $175.00
Labor to Dis-assemble, clean inspect & re-assemble Tremec, TKO & Top Loaders. $175.00
Labor to Dis-assemble, clean inspect & re-assemble T56, T45 and TR3650 transmission. $175.00
ALL PRICES ARE BASED ON A CASH PRICE THERE IS A 3% SURCHARGE FOR CREDIT CARD, PAYPAL OR SIMILAR FORMS OF PAYMENT.
I have numerous used WC and NWC S-10 and Camaro gears in stock. Call for pricing. Transmissions do not include the shifter base but are available for $25.00.
THERE IS A $200.00 CORE CHARGE FOR ALL TRANSMISSIONS PURCHASED. PLEASE READ ACCEPTABLE CORE EXCHANGE POLICY HERE.
You may receive partial or no refund at all if your core does not meet all of our acceptable core guidelines. RETURN SHIPPING CHARGES are NON-REFUNDABLE.

If core is being sent in BEFORE receipt of custom unit, your core must be deemed "acceptable" before your custom unit will ship.
Rebuilding your T5 and want to add strength to the countergear and case. This quality aluminum CNC machined piece (On the left) will not deflect under load from a hard launch or high speeds in 5th gear like the stock stamped steel piece (On the right)!!!
We offer a better price than any others on the market!!
International Shipping Available. Email me for additional cost information.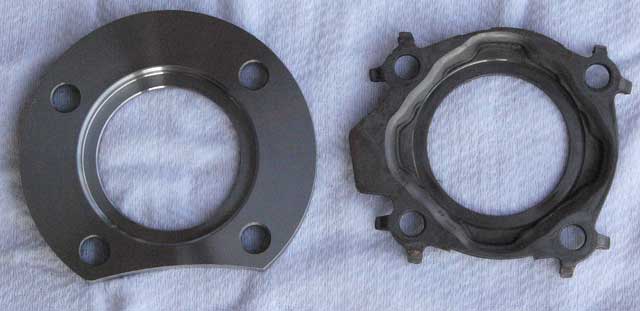 Print and mail this Order form found HERE.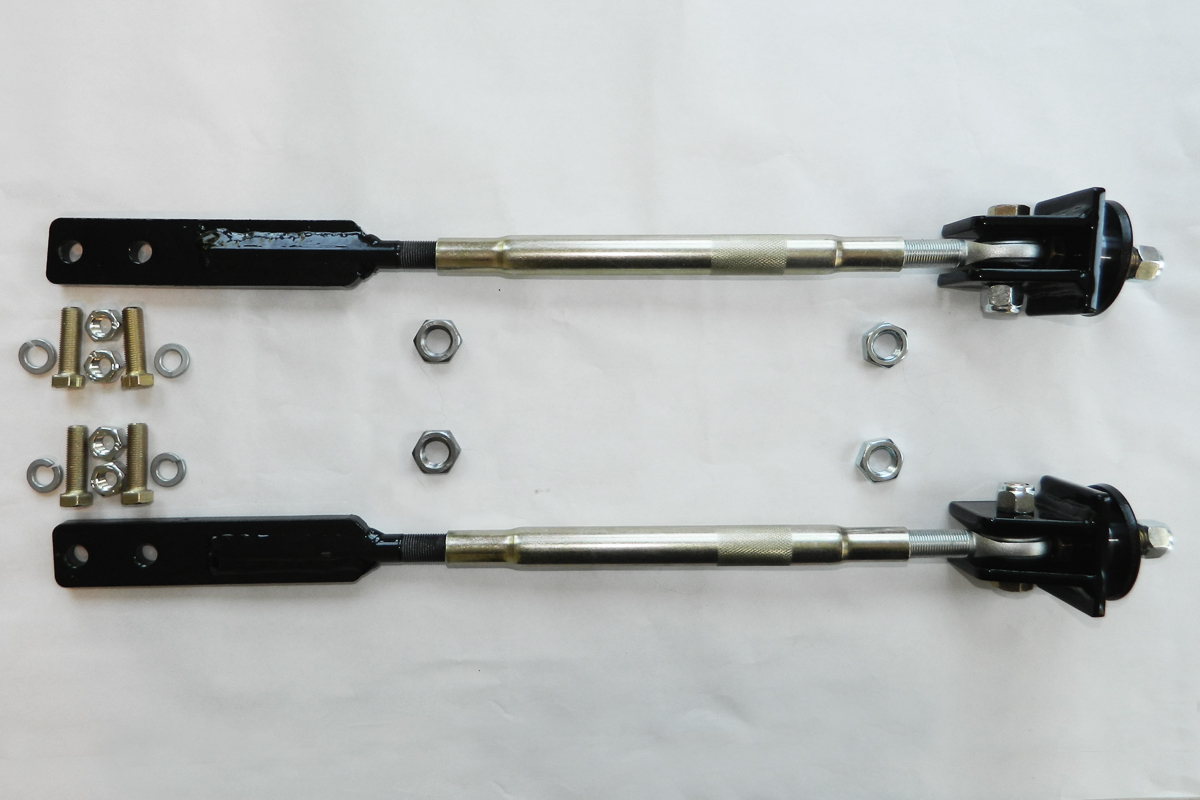 Adjustable Strut Rods for 64-66 Mustangs. Eliminates stock rubber bushings that deflect under braking. They mount directly to the vehicle with a solid mount, feature a 5/8" hiem joint with a "Seal It" seal to keep in lubrication and dirt out!!! All units are now powder coated for long lasting great looks.
Adjustable Strut Rods for 68-70 Mustangs. Will work on 67 Mustangs with the later model 68+ lower control are installed.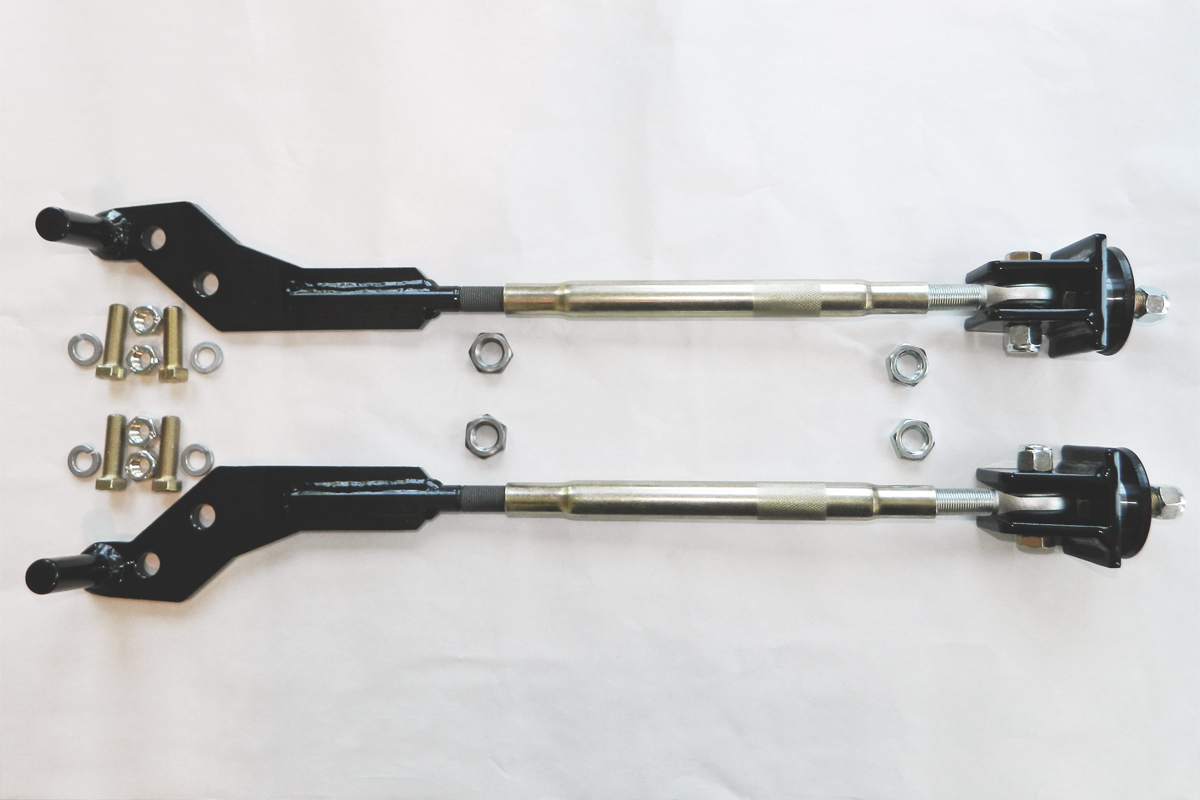 Completely bolt in.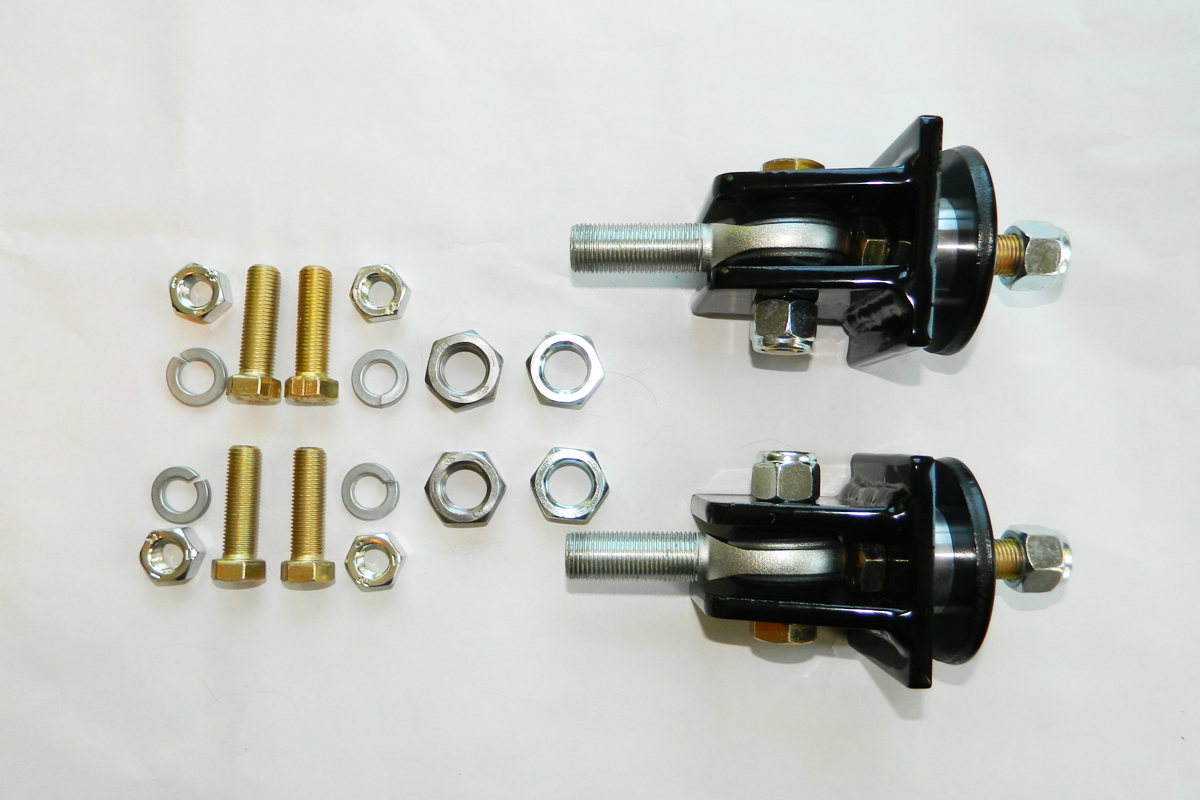 Purchase the mounts only!!! (Comes as a pair). All of the need fasteners including the right & left hand jam nuts are included. You supply the swaged tubing and modify you old strut rod. International Shipping Available. Email me for additional cost information.
-:T5 Transmission Fastener Conversion Kit:-
Installing a T5 into an early Mustang can have a few small issues to deal with. One is all of the fasteners needed to do the job RIGHT. The T5 uses standard and metric fasteners. We now have a fastener kit that includes: Bellhousing to Block bolts (6), Transmission mount bolts (2), speedometer bolt (1), transmission to bellhousing flanged bolts (4), inspection plate bolts (2), starter bolts (2), shifter bolts for stock shifter (4) and the body screw for the metal dust cover (1). All fasteners are brand new and have lock washers for the applicable fastener. International Shipping Available. Email me for additional cost information.
-:T5 Backup Lights Switch Connector:-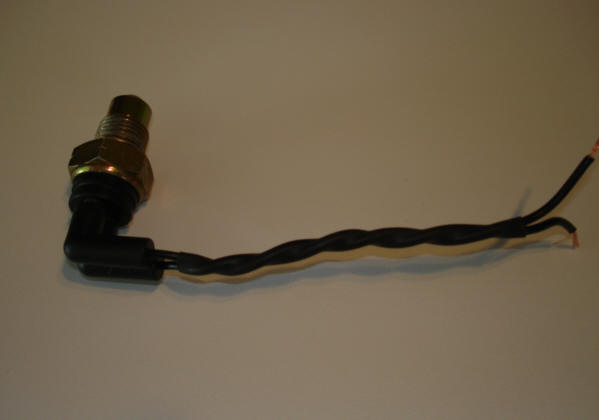 Can't find a salvage yard connector or don't want to buy an expensive whole harness? This connector setup will work just fine. Wires are connected together by heat shrink tube and the ends are ready for butt connectors (Included) or soldering. Switch is NOT included and is for reference only. International Shipping Available. Email me for additional cost information.
Brand New Driveshaft Yokes!
Ford T-5 Yoke - 1330 Series ALSO fits Ford C-4 - AOD Transmission, Ford T10, Top Loader (3 and 4 speed),
Tremec 3550, AOD-E, 28 spline transmissions
Built by www.dazecars.com
These perches were built from stock and aftermarket perches that have been media blasted, inspected, and then modified, including installation of new mounting studs, as well as being primed and painted with high quality rust resistant paint. Each perch has two high quality bearings in it. This product was designed for circle track cars. Roller spring perches improve suspension response, which, in turn, improves handling. They also reduce binding of the shocks and springs, which prolongs shock life. These perches are in stock and ready for shipment!!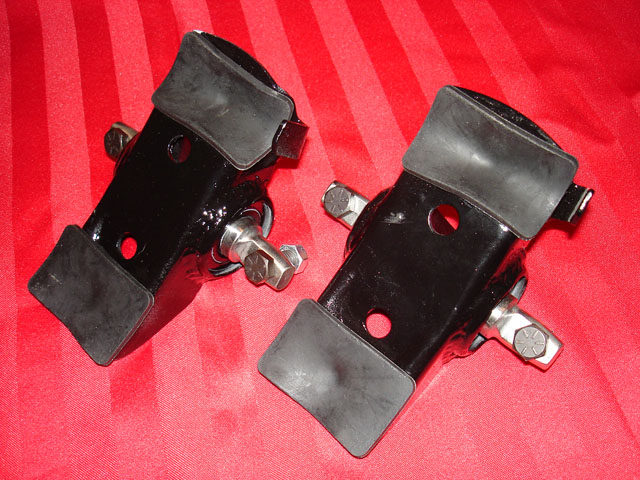 .




Roller perches made from aftermarket units.

This is the master cylinder needed to hook up a hydraulic clutch for either my T5 set up or my 3550 set up. The master cylinder with shipping charges button is to be used with master cylinder orders not ordered with clutch kits . If you order a clutch kit master cylinder that has no shipping charges with out purchasing a clutch kit I will refund your order. NOTE in order to reduce shipping costs these master cylinders will not be shipped in their original packaging. Theses are new master cylinders, but the package is large and cumbersome and will be removed to save shipping costs.
-:T5 Hydraulic Clutch Bracket Kit:-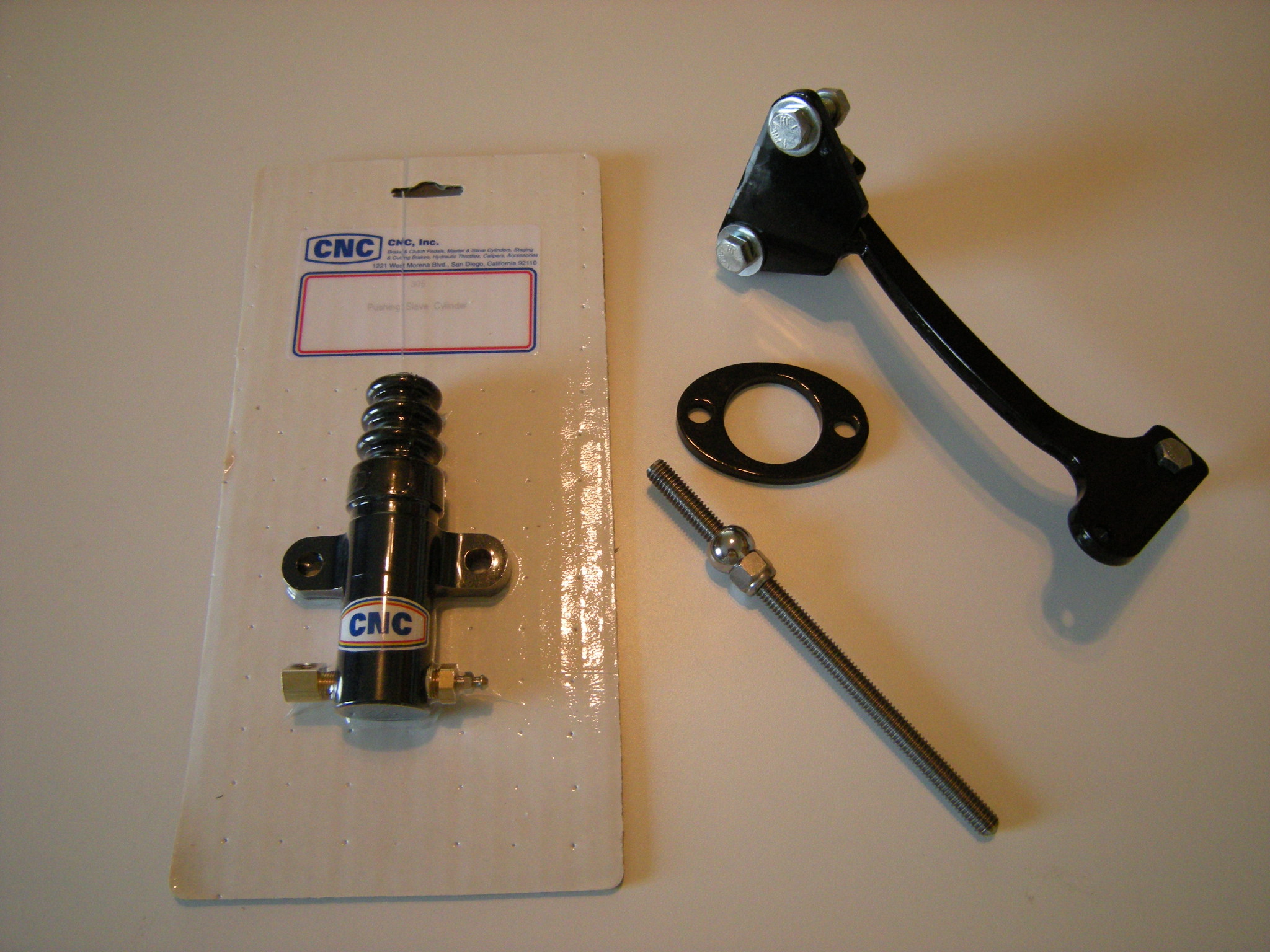 This Bracket kit allows you to use the included CNC hydraulic slave cylinder on a T5 transmission to actuate the clutch. Parts included: clutch bracket, firewall reinforcement for the MC, all the bracket mounting hardware, and instructions for bolting up this bracket. The brackets are water jet cut out of 1/4" plate steel and then are welded together, sand blasted, and powder coated in gloss black. A CNC B305 Slave cylinder, 7/8" Bore, 3/4" master cylinder recommended, 1- 1/8" travel, with fittings and our stainless steel hydraulic pushrod is included. Save on shipping and order this kit!!!
-Mustang T5 Hydraulic Clutch Slave Cylinder Kit-
This is a complete slave cylinder kit and provides everything needed to install a slave cylinder on to a T5 transmission: T5 Hydraulic Clutch Brackets, SS hydraulic clutch pushrod, a new CNC slave cylinder and the offset pushrod required to connect the clutch pedal to the master cylinder (master cylinder not included). By buying all these parts together you are saved the effort and expense of sourcing all the parts individually. The master cylinder and connecting lines are not included as different applications my require variations of these parts. Rather than being a "one size fits all" kit, this kit allows you the freedom to separately source the master cylinder and connecting lines that are best suited for your application. On 65/66 cars this kit will not work with most cars equipped with a power booster. However I was able to install this kit with a Master Power Brake booster kit (For a manual car) by making some small modifications. Note when ordering the 67-70 kit, it uses a different kit than the 65-66 cars.
Make sure your bellhousing looks like the one on the bottom picture with the clutch fork in line with the transmission tabs. Some newer setups (94+) have the clutch fork in a different location and will not work with this kit.
-Master Cylinder offset Pushrod-
-
Now that angled master cylinders are no longer available in the aftermarket, there has be a need in the Mustang community, for a way to attach the master cylinder push rod to the clutch pedal on a 65-66 Mustang with out having to drill a new attachment hole in said pedal when installing a hydraulic clutch. This 3/8" grade 8 offset pushrod replace the the stock 5/16" pushrod that comes with CNC or Willwood master cylinders and allows you to attach the pushrod to the original clutch linkage hole on the pedal. The advantage to doing this is a better pedal ratio witch translates to better leverage, an easier pedal, and better over all feel as to what the clutch is doing. This pushrod will require you to remove the snap ring and retaining washer that holds the original pushrod in the master cylinder. The original retaining washer and snap ring will need to be reused when reinstalling the new pushrod, but in some cases the opening in the original retaining washer will need to be drilled one size bigger to avoid the new larger pushrod binding on the washer.
-:Tremec 3550, TKO 500/600 Bracket Kits:-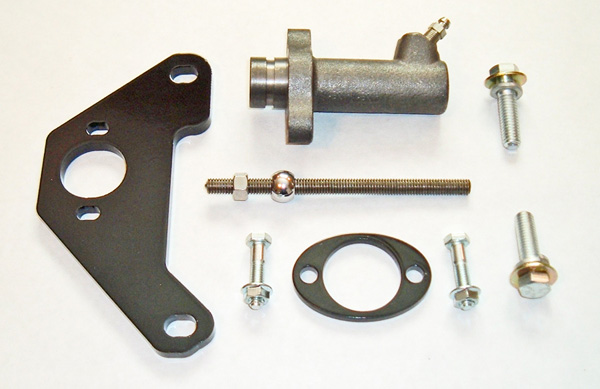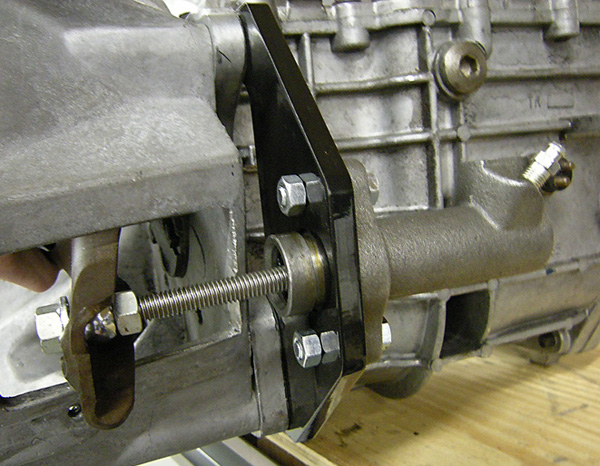 This Bracket kit allows you to use the included proprietary hydraulic slave cylinder on a Tremec 3550, TKO, TKO 500/600 transmissions to actuate the clutch. Parts included: clutch bracket, firewall reinforcement for the MC, all the bracket mounting hardware, and instructions for bolting up this bracket. The brackets are water jet cut out of 3/8" & 1/4" plate steel and then is sand blasted, and powder coated in gloss black. Our stainless steel hydraulic pushrod is included. Clutch Slave Cylinder Line Thread Size : 7/16" x 24. This kit works with stock Ford and Quicktime bellhousings. Will NOT work with McLeod bellhousings without bellhousing modifications to accept stock Ford clutch forks.
-:CNC 305 Push Style Slave Cylinder:-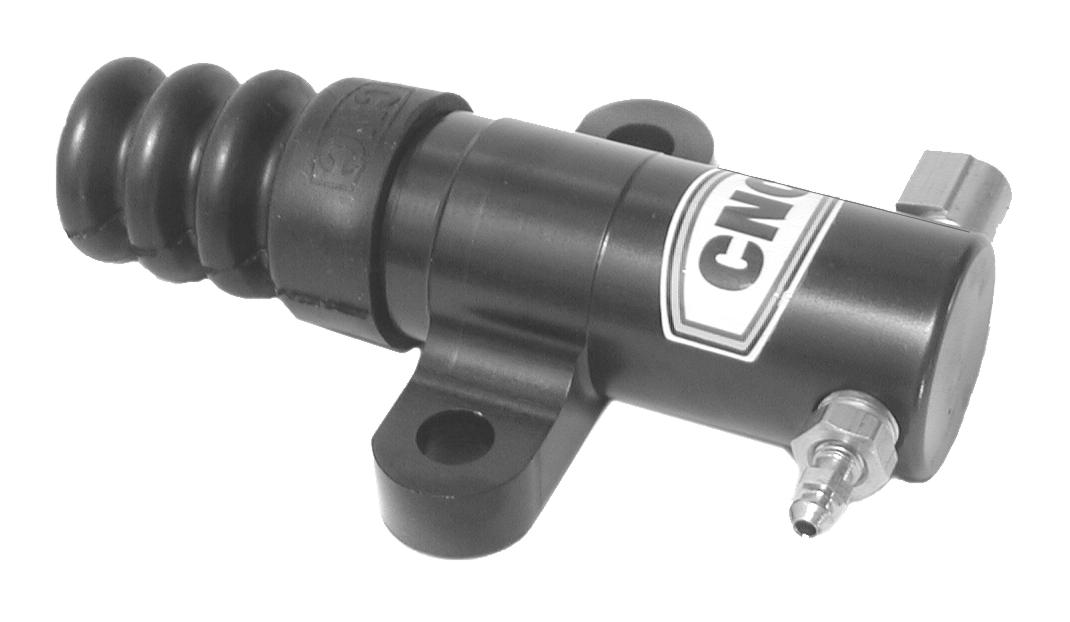 SERIES 305 Push Style Slave Cylinder, Non-corrosive - stainless steel piston, Total-seal rubber boot, Equipped with 3/16" standard American brake line fitting, Hard anodized, 7/8" Bore, 3/4" master cylinder recommended, 1- 1/8" travel. These are new units.
Return to Top

This stainless steel threaded rod comes with one end machined so that it is rounded off to work well in the slave cylinder. It is 6" long and will need to be cut to length depending on your application (Most T5 applications is 4.5"). It also comes with a stainless steel, adjusting nut and a hardened alloy steel spherical bearing that will fit perfectly in the T5 clutch fork opening (Inside hole).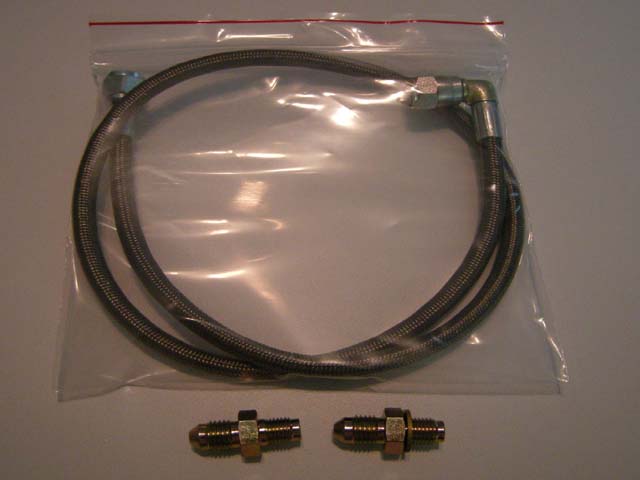 This kit connects our Wilwood master cylinder to the CNC B305 or 3550/TKO slave cylinder (Check kit needed in the dropdown). Kit comes with 30" braided steel line and two required fittings. One fitting uses a copper washer to seal on the master cylinder. This kit use the superior -4 braided line for quicker pedal return.
-:Pedal Shaft / pedal support Repair Kit:-
This kit comes with two sealed bearings, two weld-on bearing races, two spacer washers, two brake pedal plastic bushings and a brake rod bushing. This kit will replace the stock pot metal bushings that wear out and will damage the pedal shaft and pedal support.
Requires the the pedal support to be removed from the car for welding.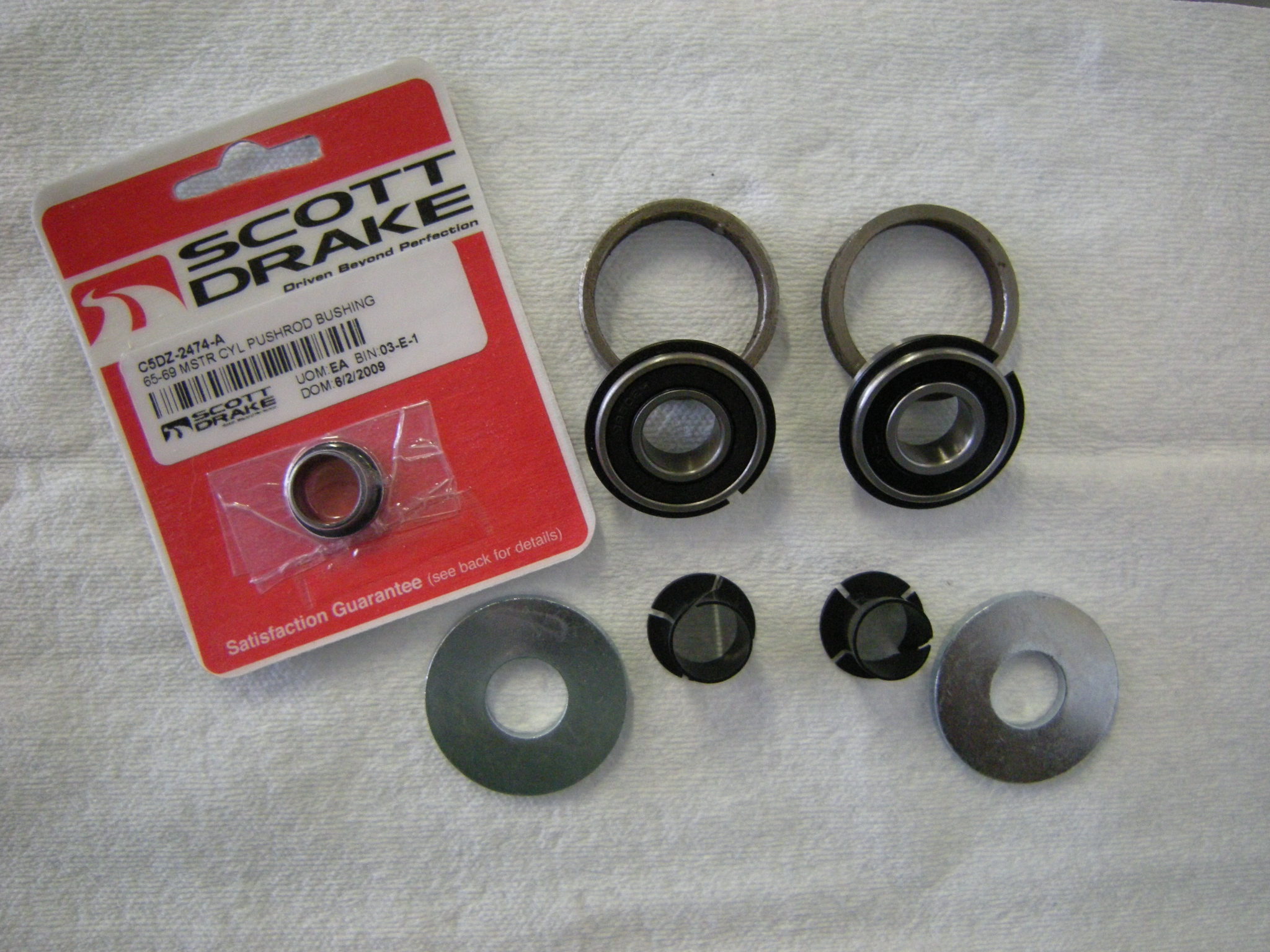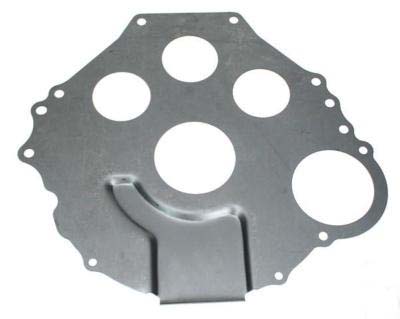 This is a Ford T5 Aluminum Block plates that fit all small block six bolt applications.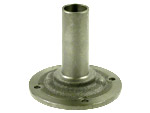 All Steel Bearing Retainer with Front Input Seal for 1985-93 Ford Mustang 5.0L
Ford T5 transmissions come from the factory with an aluminum throwout bearing retainer collar. After a while, the aluminum wears down and causes the throwout bearing to bind and travel less smoothly than it once did. The remedy is to replace the aluminum retainer with a steel unit, such as the one shown here, the steel unit will last a lot longer.
-:Vehicle Speed Sensor Connector:-
This is a new connector that fits the T5 VSS. No need to search salvage yards for a broken connector. (VSS not included).
Tired of using washers on your clutch pedal and trying to get a cotter pin or clip on the shaft and parts falling off?? This collar is easily slipped on the shaft, set screw tightened and is the proper width to fit either the stock bushing or a roller bearing conversion.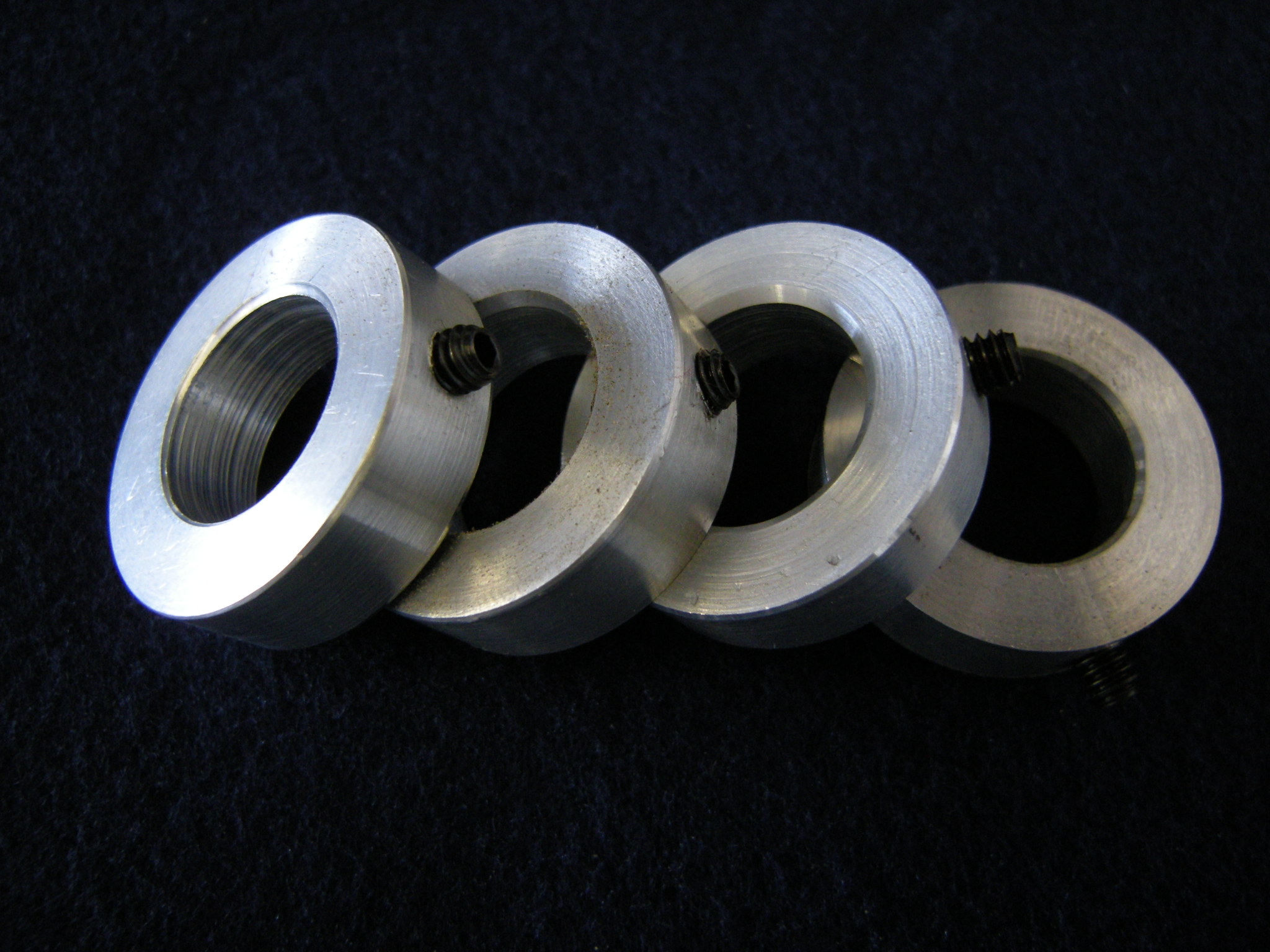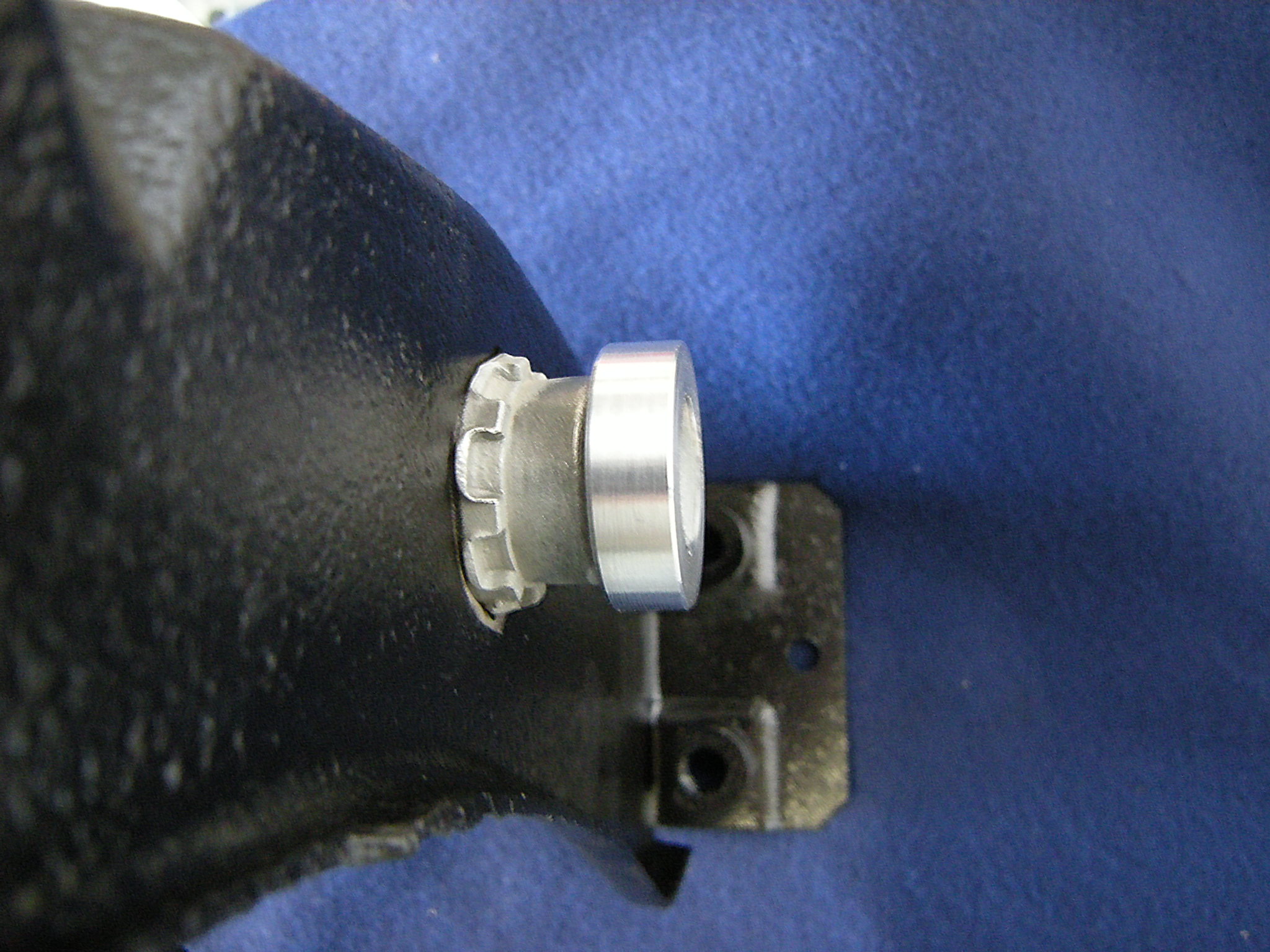 -"Heavy Duty" Clutch Fork for 1979-93 Ford Mustang 5.0L-

Notes:
This Clutch Fork will replace the Factory/OEM Clutch Fork in all Manual Transmission Equipped Cars from 1979-93. Will not work in the 5.0L Scatter-Shields from Mcleod and/or Lakewood.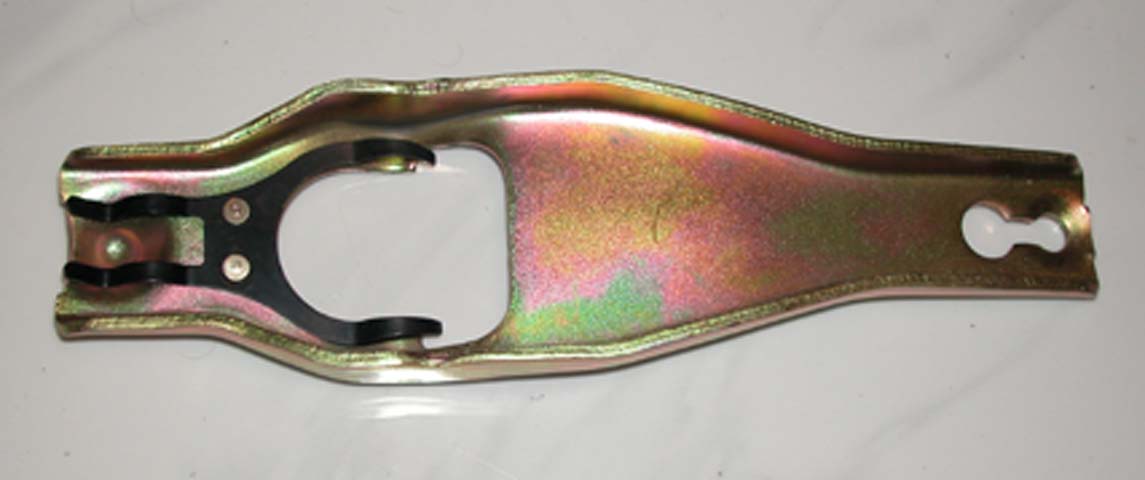 USA MADE!!! These T5 crossmembers are used when converting a 1965-70 Mustang to a T5 - 5 speed Transmission. This unit is powder coated for many years of protection.

Our T5 crossmembers are unique since both mounting holes are slotted for easier adjustment and allows you to fine tune your driveline centerline!!! Don't buy the cheap ones that don't FIT!!! These cars are over 40 years old and all of the transmission holes are NOT the same. These units are made of 1.5" 13ga tubing and are strong!!!
The 65-66 emergency brake mount is in the correct position so you do not have to bend up your emergency brake lever and will keep your cable in the proper area. Keep those cables away from the ground. 67+ do not have a built in emergency brake bracket.
NOTE: The T5 is physically taller than a C4 or manual transmission. Crossmember may interfere with with some dual exhaust systems due to the lower transmission. Modifications to the exhaust system may be required.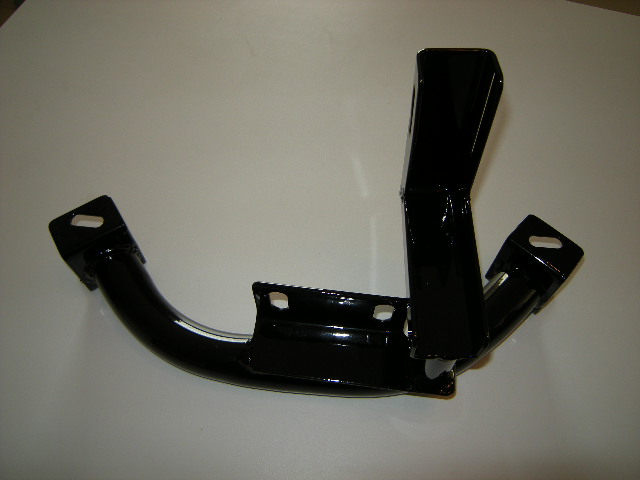 Submit and print this Order form found HERE for mail
More exciting products to come!!! Check back often.
Click Here to return to the Introduction Page
or here for the Homepage
Rosehill Performance Parts
21615 Mueschke Road
Tomball, Texas 77377